Capture Critical Business Insights Without Jeopardizing Personal Privacy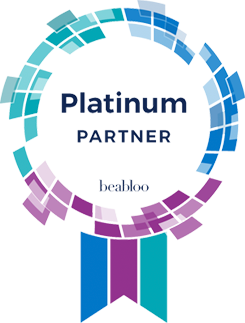 Smart technology enables businesses to collect big data analytics for better decision making and compliance. As a Beabloo Platinum Partner, UCEC Smart can now supply any business that operates in a public space with interaction care, traffic analytics, zone performance and audience analytics.
These smart solutions can address business analytics needs for retail, industrial, healthcare, government and any other business that operates in a physical space. Measure customer shopping patterns, in-store behavior, provide automated COVID-19 compliance solutions, capture demographic data, preferences, and even evaluate the performance of zones in your establishment– all without compromising customer privacy.
Invest in a proactive solution for protecting your employees, customers and bottom line. Explore the technology below to stay COVID-19 compliant, optimize your campaigns, displays and staff resources.

Interaction Care
Automated Health & Safety Business Solutions
For any business that operates in a public space, our interaction care solutions can help you comply with current health regulations and protect employees and customers by managing risk.
Interaction Care uses a unique combination of technologies to help our clients proactively protect their customers and employees on-site from high-risk interactions that could endanger their health and safety. With these tools, businesses can:
Manage Occupancy
Monitor Human Body Temperature
Detect Mask Usage
Analyze Interactions (people, distance, time and risk)
Identify Zones with Higher Risk
Receive Alerts When Safety Guidelines Aren't Being Followed
Protect employee and customer health without jeopardizing their privacy. All data collected adheres to GDPR compliance standards and is always anonymous.
Applications and Characteristics of Interaction Care
Can be used in any physical space including supermarkets, businesses, government offices, banks and airports
Leverages PoE WI-Fi technologies and zenithal camera sensors
Uses high accuracy thermal cameras to measure people's temperatures
Uses People Counter technology for occupancy control to keep track of how many people enter a space, stay inside and how many people leave
Ready to use (SaaS) is compatible with plug and play IoT devices
Certified and compliant with GDPR privacy standards
A safe, robust, and protected tool with ISO/IEC 27001:2013 certification
Keep Your Team Safe and Your Business Open
As a platinum partner, UCEC Smart can manage your deployment and installation of Interaction Care technology. Powered by the Microsoft Azure big data and artificial intelligence engine, this cloud-based application is ready to plug into your existing IoT devices. With its highly scalable infrastructure, this system comes with virtually unlimited capacity.
Concerned about privacy and security? We are, too. Interaction Care meets the highest security and privacy standards and is GDPR compliant with ISO-27001:2013 certification.
Protect your employees and your bottom line. Learn more about Interaction Care, powered by Beabloo, by contacting us today.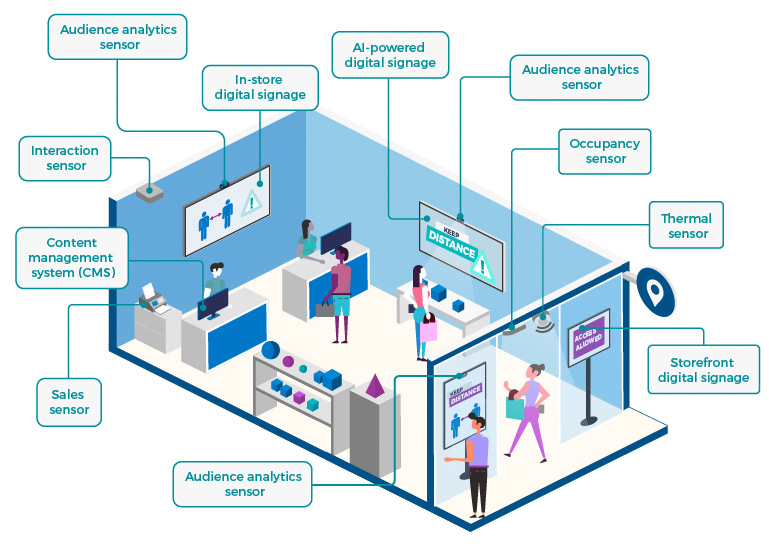 Traffic Analytics & Zone Performance
Optimizing Your Resources for Smarter Business
Maximize your store performance by defining the best customer journey layout, zones for displays and marketing campaigns and staffing requirements for peak traffic times. Much of the same sensor and tracking technology used to deploy interaction care can be leveraged for these additional customer insights. Capture the whole customer journey from passerby outside your store, footfall inside, new and recurrent customers, traffic through store zones, time spent in different zones and how that traffic relates to sales. Access this data for all locations any time, anywhere through the automated dashboard.
Traffic Analytics and Zone Performance is provided by combining Wi-Fi and video analytics. Wi-Fi sensors track Wi-Fi enabled devices, such as smartphones, to perform a customer shopping behavior analysis to determine how many devices stopped in a zone, and how many of them only passed through.
A ceiling-mounted video sensor is used for footfall analysis, which identifies customer flow to clearly see where customers stop and how long they spend there. Flow analytics can be converted into heat maps of the store layout.
The cloud-based dashboard updates every 24hrs. Data can be filtered by store location and users can select individual zones within their location to check their performance. With traffic analytics and zone performance you can track:
Traffic inside and outside of your store
Total visitors
Total visits and visitor recurrence
Zones passed per visitor
Zones stayed per visitor
Average passing and staying time
Filter and compare data by date, time, day, and more
Optimize Your Store Operations
Beabloo Traffic Analytics and Zone Performance solutions will help you achieve performance improvements in your brick and mortar locations. And as a platinum partner, UCEC Smart can fully manage your deployment and installation. Ready to improve your customer's experience and increase sales?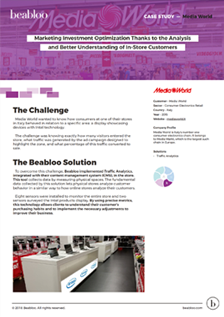 CASE STUDY
Optimizing Store Displays for Traffic & Sales
Media World, Italy's number one consumer electronics retailer, wanted to know how customers were interacting with and impacted by a display showcasing devices with Intel technology. The challenge was knowing how many visitors entered the store, what traffic was generated by the ad campaign designed to highlight the zone, and what percentage of this traffic converted into a sale.
Download the case study to see how Beabloo Traffic Analytics collects and analyzes data in physical spaces.
Business Processes & Efficiencies
Optimizing Your Resources for Smarter Business
One of the benefits of IoT in manufacturing is the deployment of smart business efficiencies to create integration between systems and processes used on your shop floor, by your suppliers and customers. This connection is key to keeping everyone aligned on every project. Empowering your employees with instant, up to date data enables both better project management and better customer service. All while helping you prevent lag, downtime, duplicate work and missed opportunities.
A cloud solution could provide everyone on your team instant collaborative access from anywhere. Or a sensor system could allow you to efficiently monitor for conditions that need to be met in order to trigger a routine or maintenance process.
Read more about business processes and efficiencies in these blog stories, explore our smart solutions, or contact us to get started on your smart project.
Audience Analytics
Unparalleled Demographic Data for Competitive Customer Segmentation
The Beabloo Audience Analytics solution allows you to obtain business-critical demographic information anonymously so you never jeopardize customer privacy. Compile valuable customer insights and maximize your IoT investment by deploying the same technology as Interaction Care's mask detection feature. With Audience Analytics, you can:
Improve campaign efficiency with better audience segmentation and content personalization
Discover audience and traffic trends
Increase customer loyalty with up-to-date information about changes in customer preferences
Supervise store performance
Digital signage is equipped with video sensors that conduct anonymous face detection to collect demographic information like gender and age-range. The Beabloo cloud-based Audience Analytics dashboards are updated every 24 hours giving you constant feedback on your customer data.
As a platinum partner, UCEC Smart can fully manage your Audience Analytics deployment and installation for any business interested in gaining a better understanding of their customers, including:
Retail
Banks
Convenience stores and supermarkets
Malls
Big events
Theme Parks
Hotels