Our digital future is upon us, but as a small or medium sized manufacturer sometimes it can be challenging to know the best way to embrace smart tech. If you're in need of some inspiration on your journey to digital transformation, review these four examples of how other companies are embracing the industrial internet of things to improve their business efficiency and grow their bottom line. 
A Digital Twin Helps Deploy Future Digital Transformation at the Port of Rotterdam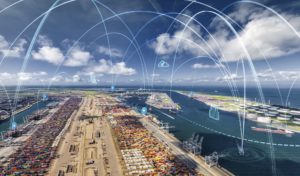 Shutting down or delaying the operation of any business to test or implement new technology can be a risky venture in the best of circumstances. But if you're the Port of Rotterdam, the largest port in Europe, it's simply inconceivable.  The Port, located in the Netherlands, hosts more than 3,000 businesses, employs 180,000 people and generates €21 billion added value yearly. The port sees nearly 30,000 container ships yearly– vessels that span 400 meters in length, 57 meters wide and 10 stories high.
The rewards of implementing IIoT solutions for an organization the size of Port of Rotterdam are great. But at this scale, so are the risks. To help prevent downtime and provide greater odds of successful deployment of digital transformation like inventory management, energy efficiencies, predictive maintenance and more. Learn more. 
RFID Technology Helps a major Healthcare company Track and Manage Inventory
BJC HealthCare was an early adopter of IIoT technology and implemented radio frequency identification (RFID) in 2015 to track and manage medical supplies.
RFID technology uses radio waves to read and capture information stored on a tag attached to an object, such as healthcare supplies.
Manually tracking inventory can be challenging and labor intensive. RFID technology enables BFC HealthCare to track a variety of products, from different suppliers and even notify staff when expiration dates on products are approaching or have passed.
Since implementing the technology, BJC has been able to reduce the amount of stock kept onsite at each facility by 23 percent. The company predicts that it will see ongoing savings of roughly $5 million annually, once RFID tagging is fully implemented this year.
BFC's deployment of smart tech demonstrates how IIoT can significantly improve operations, increase efficiency, reduce costs and provide valuable real-time visibility across the supply chain.
Caterpiller uses Augmented Reality for Efficient and Predictive Maintenance
Caterpillar is bringing data to life through a mix of augmented and virtual reality.  Caterpillar's virtual machine and engine models and thousands of virtual systems empower machine operators with an instant view on all the key indicators of the heavy equipment. Not only are the operators able to see information such as fuel levels and components that need maintenance and replacement, but the repair instructions are sent via the AR app, which significantly reduces the time spent on communicating and fixing the issues.
Smaller scale deployments to increase efficiency and specialization
Although many of these are large scale deployments of new technology, embracing our digital future can start with taking a close look at your legacy machines and processes. At UCEC, we started the process of embracing smart tech by examining the bottlenecks in our production. For us, executing the CAD plans on the panels and measuring and cutting hundreds of wires per panel were tedious tasks that took a lot of time and precision. For these labor-intensive tasks, we turned to automation.
First, we invested in a Schleuniger wire stripping and cutting machine. The new tech allows us to improve our wire consistency and greatly increase efficiency.
Previously, a craftsman would need to walk over to a wire spool and pull the wires they needed, then cut them to the same length. Finally, they would have to strip the ends of the wires to a desired length. This took a lot of time and energy because it's common to need 200 identical pieces of wire for a job.
Now, with the Schleuniger machine, we load up a spool and input the wire gauge; how long we want our pieces; and whether or not we want the ends stripped. The machine feeds the wire in; cuts and strips it; and then places them neatly on a wire stacker.
Next, we deployed a Steinhauer MC-80. The Steinhauer machine allows us to do all of the drawings/cad layouts ahead of time, and have them ready to go when the parts arrive. The same CAD set up can be used on identical panels, saving our assembly team time and labor that can be spent making our panels better, more efficient, and higher quality for our customers. If UCEC makes 5 control panels that are identical in layout, the Steinhauer machine allows us to be 74% more efficient. If we make 50 identical Control Panels, we can be 84% more efficient. This also allows for higher levels of specialization within our team.
These smart technology examples perfectly illustrate that embracing our digital future doesn't have to be overwhelming. Ready to get smart? Contact us today to start tackling pain points in your operations. We can help you deploy a tech-enabled, scalable solution that doesn't break your budget and increases your bottom line.