SMB*s should take heart- despite spend at the enterprise level, most IIoT solutions are still looking for a problem to solve. UCEC Smart offers small to medium sized manufacturers the opportunity to deploy new technology that tackles known challenges for low-cost, high-impact solutions.
*small to medium-sized businesses 
Digital transformation, the internet of things, smart factories–these are all buzzwords you've likely heard with increasing frequency in the manufacturing world over the last decade. If you're a small to medium sized manufacturer, you might be feeling overwhelmed by the resources required to deploy large-scale IoT operations on your shop floor and an increasing anxiety over not being left behind in this dawning digital age.
Enterprise IoT Deployments are "Solutions Looking for Problems"
After all, when 90 percent of all IoT spend is coming from companies with revenues greater than $50 million it's easy to assume digital transformation is something that can only be pursued by enterprise-level organizations.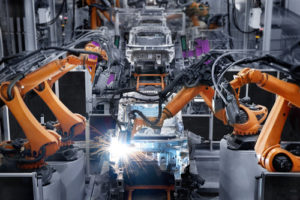 However, when comparing the rate of IoT spend vs. the rate of IoT success (adoption of IIoT activity on the shop floor has been low), these initiatives appear to be a case of "solutions looking for a problem".
In other words, the slow pace of IoT adoption offers a lesson on technology getting ahead of its customers. Sixty percent of IoT initiatives stall at the Proof of Concept (PoC) stage and only 26 percent of companies have had an IoT initiative that they considered a complete success. Even worse – a full one third of all completed projects were not considered a success.
SMBs Get the most of IoT through Low-Cost, High-Impact Solutions
This offers a unique opportunity for the SMB manufacturer to get ahead of enterprise solutions. Instead of deploying solutions and hoping they'll find a problem to prove their ROI, first identity a problem and look to the vast and growing smart world for an efficient solution.
UCEC Smart specializes in the low-cost/high-impact solutions that will make the most of your IoT deployment without overextending resources.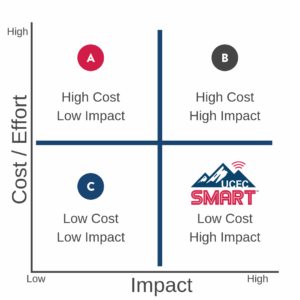 Unlike pure software plays, IoT requires a sophisticated network of sensors, along with meaningful data collection and algorithms that turn insights into actions. Low cost, high impact problems are ideal for starting IoT deployment in your organization.
Solve Preventative Maintenance with UCEC Smart
For example, preventative maintenance is one problem that can fall in the Low Cost/High Impact quadrant. Smart preventative maintenance solutions have three important characteristics: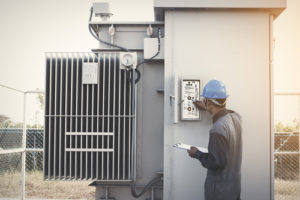 They would benefit from 24/7 employees
There is an inherent latency in the data gathering activities of your employees. Due to natural human error, employees don't always notice things in the same way a sophisticated sensor might. The end result is the unplanned machine downtime that will hamstring a SMB manufacturer.A sensor has one job, and it does that job twenty-four hours a day, seven days a week, without fail. In a UCEC Smart implementation, the job of a sensor is to collect data, such as temperature, vibration, humidity, fluid levels, iterations, and other critical data points that could help predict machine downtime.
It requires minimal effort and can be implemented at a small fraction of the typical IoT spend.
UCEC Smart Solutions can be implemented quickly and cost effectively because our sensors are not talking to your machines.  Our sensors are simply observing your machines – listening to your machines and noticing the conditions of your machines.A good cost-effective preventative maintenance solution won't require cybersecurity considerations because the sensors do not interface with and/or instruct the machines. Our solutions are just giving the machines a "voice".
The solution is impactful.
For the SMB manufacturer, the 80/20 Rule is almost always in effect – twenty percent of your processes yield eighty percent of your production. These highly leveraged processes are typically performed on 3-5 machines on the factory floor.Given the importance on those 3-5 machines, start with gathering data on those so that we can limit their unplanned downtime.
A Smart SMB Solution in Action
In terms of what this preventative maintenance solution looks like on the factory floor, its simplicity is deceiving.  Basically, the machine only bothers you when there is a problem.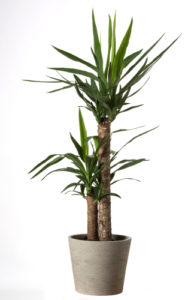 Meet Spruce Willis. Spruce is a houseplant in out lobby that we've equipped with a sensor. We only hear from itwhen it's thirsty – when the sensor tells us that the moisture levels are low.  When we get the text that the plant is thirsty, we give it some water.  In other words, we identify the machine(s) that generate eighty percent of the production; we place sensors on those machines and set parameters.  When the sensors experience conditions that exceed the acceptable parameters, your employee is notified to take the appropriate action.
For most non-enterprise businesses, the unknown cost of transformation and the lack of solid data about benefits and returns keeps firms doing what they have always done – running equipment to failure and replacing it, or running standard preventative maintenance programs that require attentive employees.  While moving to condition-based maintenance or predictive maintenance represents the ideal, organizations remain skeptical that the investments required to reach those aspirational levels of automation and performance monitoring will yield positive returns.
With UCEC Smart, deploying IoT solutions is not an all or nothing game. You can begin digitally transforming your business through data gathering technology that requires minimal effort and can be implemented quickly and cost effectively.  The impact of the solution on unplanned downtime can be considerable and the return on investment surprising.
Interested in getting Smart? Contact us today!