For any business that operates in a physical space, 2020 has provided a series of challenges to maintaining "business as usual". Protecting your employees, customers, and bottom line while achieving compliance with evolving health and safety regulations can be daunting for any business owner to navigate. Keeping up with city and state regulations, federal guidelines, and CDC recommendations can be so much to manage, many businesses are turning the responsibility into a full-time position or avoiding opening their doors at all. 
That's why UCEC Smart is introducing Interaction Care, an occupancy control and risk management  solution that can make it easier for you to maintain your business priorities without having to expand your headcount or compromise productivity. As a Beabloo platinum partner, we have access to deploy and install Beabloo technology that will enable you to:
Manage occupancy with real time occupancy metrics

Monitor human body temperature

Detect mask usage

Analyze interactions (people, distance, time and risk)

Identify zones with higher risk

Receive alerts when safety guidelines aren't being followed

All without jeopardizing customer privacy
Through a network of sensors, digital signage, Wi-Fi and video analytics, Interaction Care helps you minimize the risk of COVID-19 infections to protect customers, clients and employees. The anonymous face detection and temperature sensors collect valuable information like body temperature
Challenges of Occupancy Control and COVID-19 Compliance 
Every business has familiarity with occupancy compliance that dictates how many people can be in a given space at any one time. However, with new occupancy restrictions put in place for COVID-19 compliance, businesses find themselves more restricted in how many people they can allow in and often must conduct other screening checks on those individuals before allowing entry. 
Depending on your state and local regulations, remaining compliant with the new rules could be daunting and may even require a full or part time employee to properly manage. The risks of not properly managing occupancy and screening include:
Missing opportunities to let more customers enter your business 

Receiving a citation or fine for violating health regulations

Allowing risky interactions that unintentionally expose employees or customers

Being the source of an outbreak

Having to shut down your business for violations or employees in quarantine
A reliable solution to occupancy management and COVID compliance is critical to the health of your business and employees.
An Automated Health & Safety Business Solution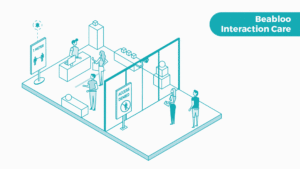 Interaction Care powered by Beabloo is an automated solution for controlling occupancy, measuring interactions between people and guaranteeing social distancing in physical spaces. While adhering to strict privacy standards, Interaction Care measures human interactions in all kinds of spaces including grocery stores, retail stores, banks, health care facilities, office buildings and more.
Without adding to your headcount, you can keep your team safe and your business open.  Through the cloud-based dashboard, you can react with real-time alerts and measure the effectiveness of your signage systems to educate people about infection risk and precautionary measures. Maximize customer interactions, protect workers and measure risks constantly for better decision making and business performance.
Learn more about the components of interaction care in this video: 
IoT Technology with Multiple Applications
Decision makers are faced with a tough task: find a cost-effective, reliable solution for a problem with unknown longevity. When it comes to COVID-19 and its accompanying restrictions, no one knows if we're embracing a new normal or looking for a short-term solution. Luckily, all of the Interaction Care technology can also be deployed to conduct non-COVID related business analytics. 
The same sensors, video analytics, digital displays and cameras can be engineered to provide Traffic Analytics, Zone Performance and Audience Analytics. Analyze customer behavior and anonymously gather demographic data about your customers for a better customer journey, optimized campaigns, increased customer loyalty and greater store performance insight. 
As a platinum partner, UCEC Smart can fully manage your Interaction Care deployment and installation for any business interested in maintaining safety compliance and gaining a better understanding of their customers. Contact us today to learn more about these smart solutions. 
Learn more about Traffic Analytics and Zone Performance
Learn more about Audience Analytics